To most people (especially if you don't have little ones in the home) this post will be completely boring. So you can click out of this blog now if you want to. :-)
Today was our first day totally in cloth diapers! It took awhile for all the diapers I ordered to come in and then I had to prep them and yada yada yada... So today was the day. Well, ACTUALLY, last night was the first time... Dont ask me why I wanted to risk it but I did, haha. She slept in a Fuzzi Bunz dipe last night. No leaks! And this is from a babe who's morning diaper could knock someone out cold!
The kinds I bought are mostly pocket snap diapers with a few velcro thrown in there. I bought a couple
Fuzzi Bunz
, a couple used
Bumgenius
3.0, a few
SmartiPants
, but most of my stash is
Kawaiis
. Yes, they are an eBay diaper, but they got awesome reviews online and at only about $6 a diaper, I couldn't resist!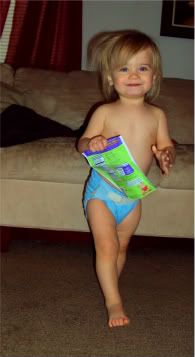 Attack of the bed head!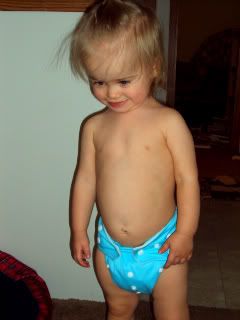 I dont know why but she was just actin' all shy when she got up from her nap :)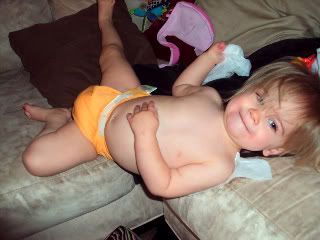 Chillin' on the couch...
So far, I really like cloth diapers. They're so cute and seem to be just as easy as disposables. We've had no leaks so far in any of the diapers, which is good especially because she has chicken legs and I wasn't sure if some of the dipes were too big or not. :) Plus, we'll be saving money. I figure each disposable diaper is about .20 each so these babies will pay for themselves in just a few months. Yay for saving money! Oh, and I also won a SmartiPants dipe in a blog giveaway this week! Woohoo! :)
To be honest, the one thing I dont like about it (and Im sure most CDers can say the same) is the poop.
TMI ALERT
-- Char's poop is usually brown and solid. Normal. The past week or so it has been yellow and soft. I'm thinking it's because she's teething (workin' on those molars!) but I dont know. HOPEFULLY this will pass soon because let's just say that dealing with 2 of those kind of diapers today was not fun! I think I'm going to invest in one of those nifty diaper sprayers....
Oh, and Thomas likes it, too! He worked all day today but he changed her into her nighttime diaper. He did a good job! :)
TTFN!
And I'll leave you with a cute video of Charlotte eating applesauce with a spoon :)